At "Poetry Pals" time at the Library yesterday we learned about acrostic poems. You take a word, write it vertically, then write a line of the poem beginning with each letter of the word. Thomas hates poetry and grumbled about even going. But after Miss Linda taught what acrostic poems were and then asked who wanted to write their own, Thomas was excited about doing it! All the kids were. Here are their poems.
KIDS
K
ids like to have fun
I
t's fun because we can climb trees
D
eer hunting is fun when we kill our first deer
S
un's heat does not stop us from playing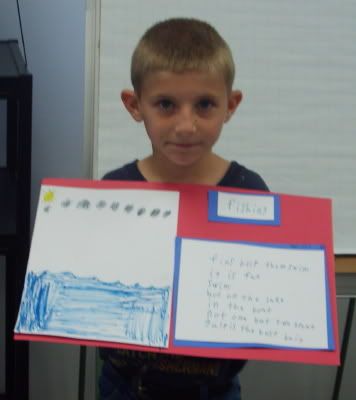 FISHING
F
ins help them swim
I
t is fun
S
wim
H
ot on the lake
I
in the boat
N
ot one but two trout
G
ulp is the best bait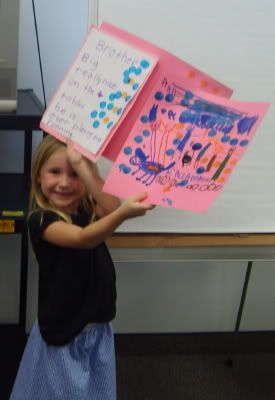 BROTHER (Philip)
B
ig
R
eally nice
O
n the
T
ables
H
e is
E
ver playing and
R
unning
Thanks to Tina for taking the pictures! I'll be including all the kids poems (9 of them) in our Homeschool Fellowship November newsletter.